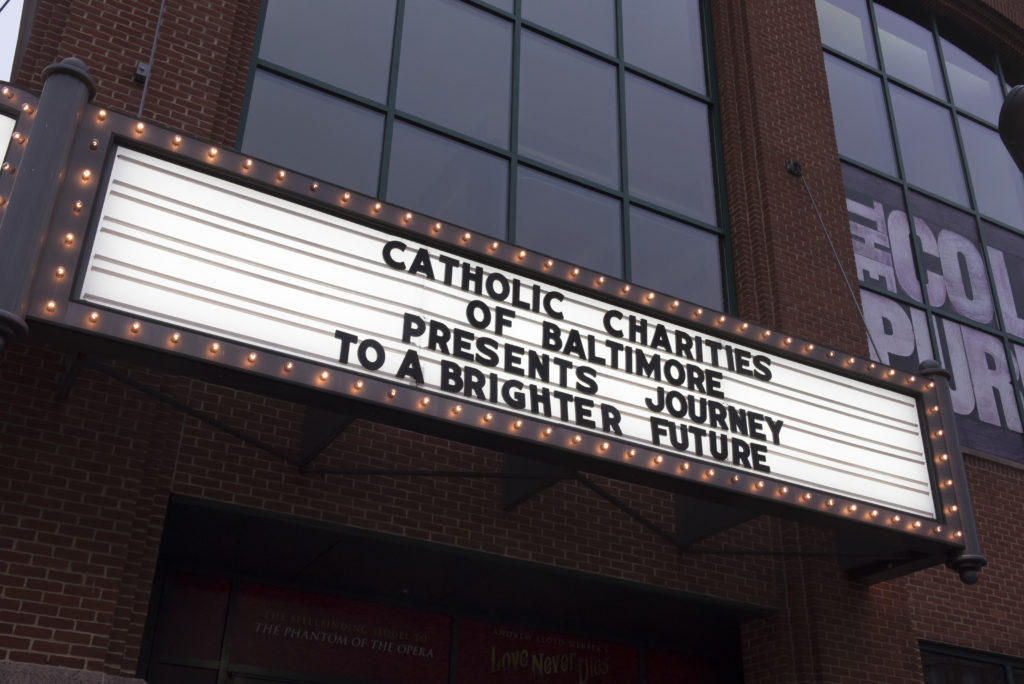 On Wednesday, October 11, Catholic Charities held its 2017 Annual Celebration at the Hippodrome Theater in Baltimore.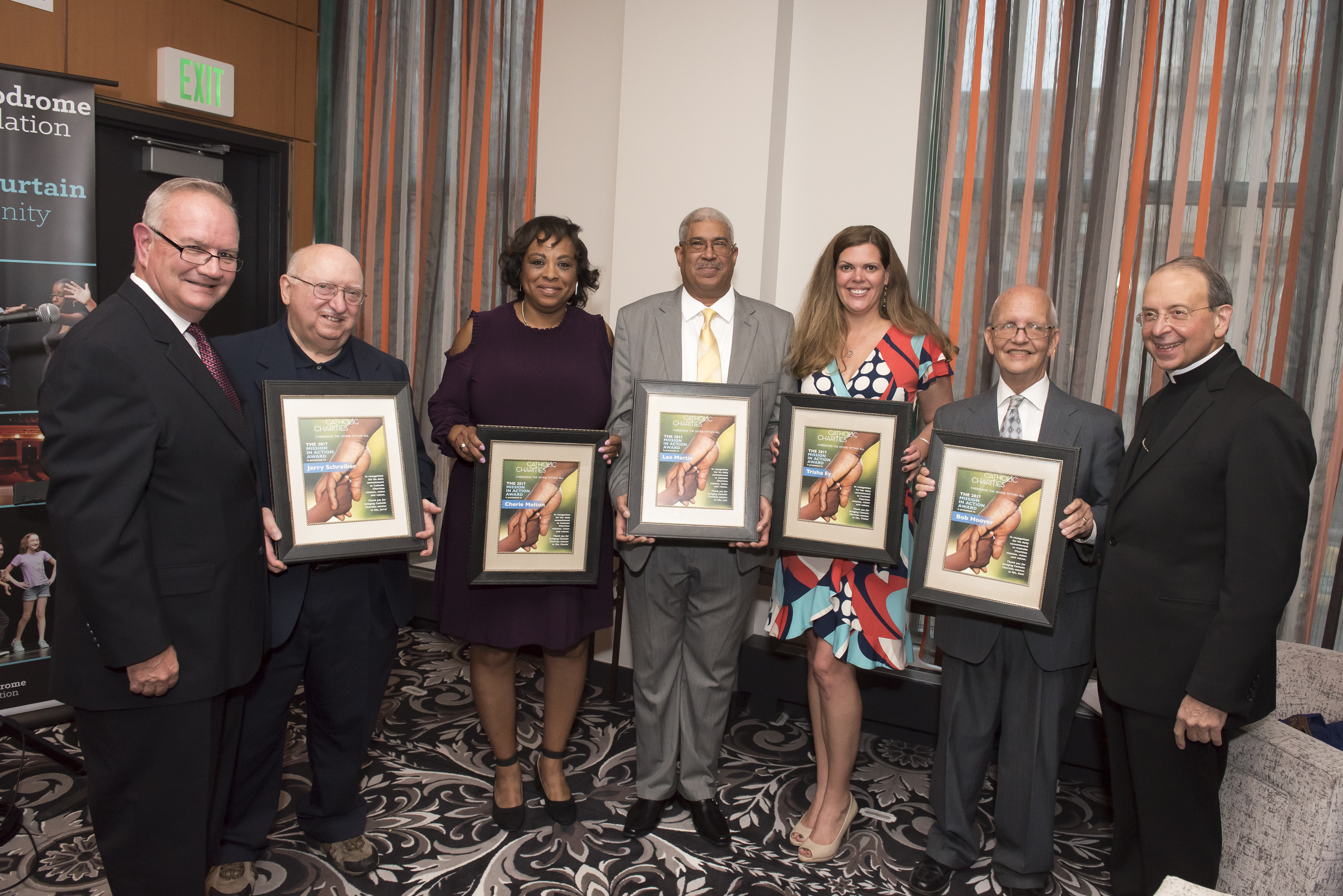 Earlier in the evening in a private reception, Bill McCarthy, Executive Director of Catholic Charities of Baltimore presented the 2017 Mission in Action awards to the following individuals:
• Trisha Ey: Therapeutic Recreation Coordinator, St. Vincent's Villa, Family Services
• Bob Hoover: Junior Accountant, Finance, Central Services
• Lee Martin: Director, Weinberg Housing and Resource Center, Community Services
• Cherie Melton: Director, St. Ann Adult Day Services, Senior Services
• Jerry Schreiber: Volunteer, Esperanza Center, Community Services
Trisha, Bob, Lee, Cherie and Jerry were nominated by their peers to receive this award. They all embody the Catholic Charities' commitments of dignity, compassion, humility, collaboration, excellence and integrity in their work.
Congratulations to the award winners. Thank you for your service and dedication.
To see the award winners in action,

click here

to view the video.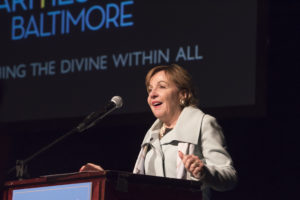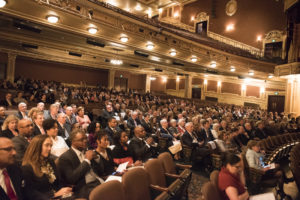 Mary Ann Scully, President Catholic Charities Board of Trustees, started off the evening's program, followed by remarks by Bill McCarthy.
Later in the evening, the audience viewed Journey Toward a Brighter Future, the featured video at Catholic Charities Annual Celebration.
Throughout every stage of life and during times of strife or joy, Catholic Charities accompanies all on their journey of hope.
As Pope Francis says "Hope is what drives 'sharing the journey of life."
Every day from the break of dawn and into the dark of night, our staff works tirelessly with thousands of individuals to address challenges and offer opportunities that improve the life of a person, a family or a community.
After the video, additional awards were given to individuals who have tirelessly supported Catholic Charities and its mission.
Sr. Kathleen Feeley, S.S.N.D. School Sisters of Notre Dame, Atlantic-Midwest Province received the Msgr. Authur F. Valenzano Joyful Servant Award. This award is in memory of Monsignor Arthur F. Valenzano, Rector of the Basilica of the National Shrine of the Assumption of the Blessed Virgin Mary and a member of Catholic Charities Board of Trustees until his passing in September of 2015.
The recipient embodies the joyful life and spirit of Monsignor Valenzano and his ability to touch the lives of thousands of Marylanders. Sr. Feeley has enjoyed distinguished careers in education as a teacher and President Notre Dame of Maryland University, Interim President of Institute of Notre Dame and founder of the Caroline Center.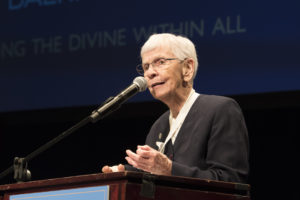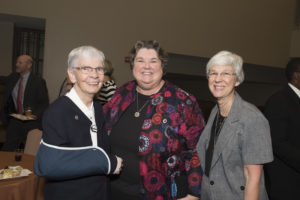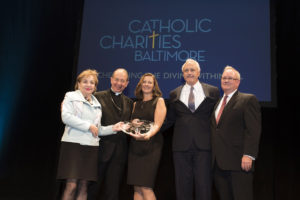 Bill and Lisa Stromberg were the recipients of the Distinguished Service Award. This award is given to an individual or group that exemplifies or significantly supports compassionate caregiving and service; has a personal commitment to the work of Catholic Charities; and demonstrates the goal of cherishing the Divine within those we serve.
Bill Stromberg is President and Chief Executive Officer of T. Rowe Price. Lisa Stromberg has served as Inaugural Leadership Committee member for My Sister's Place Women's Center, board member of Notre Dame Preparatory School, Mother Seton Academy and Goucher College.
Lastly, John Gething was presented with the Anne Lindsey Otenasek Youth Service Award. This award is given to high school students in recognition of their outstanding volunteer service with Catholic Charities. It's in memory of Anne Lindsey Otenasek, a passenger on 1988 Pan American Flight 103. It honors and perpetuates her spirit, which was the hallmark of her volunteer work at Gallagher Services.
John is a Senior at Archbishop Spalding High School, an Eagle Scout Boyscout and a volunteer with Catholic Charities' Sarah's House.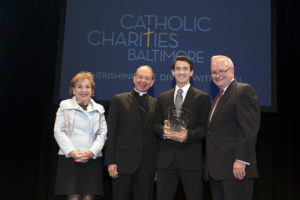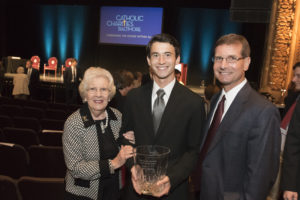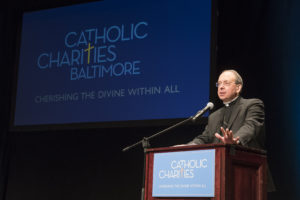 Archbishop William E. Lori concluded the evening by sharing his congratulations.
Thank you to attendees and award winners.